DCLA Diamond and Jewellery Valuations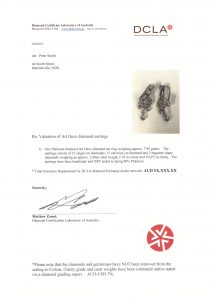 DCLA Australia's leading diamond certification laboratory valuation service.
Due to the rates of exchange and the price changes in Diamonds and Gold,  Your Diamond or Jewellery valuations should be updated annually.
A valuations from DCLA laboratory experts is accurate and guaranteed.
Accurate valuations save you money on insurance premiums, keeping you covered in case of a loss, while making sure you receive the same quality diamond or jewellery without compromise.
With a DCLA Diamond Valuation or a Jewellery Valuation  you are guaranteed to get a diamond with the precise quality grade as the stone you insured. It is exact like for like quality.
All Diamond and Jewellery valuations will include personalised optional Cold Laser inscription on the girdle on request.
Insurance Valuations
What is an Valuation and do I need one?
A jewellery valuation is an expert opinion on the current market value of a piece of jewellery. It is important to note that there are many types of valuations and the type and purpose of the appraisal will influence the final value placed on the piece of jewellery. For example an valuation for resale will probably be lower than a valuation for insurance replacement.
The most common purpose of an valuation is for insurance replacement. Most insurance companies require a valuation determine the insurance value and premiums. A valuation also provides a record of the item in case of loss.
It is important to consider that the value that you insure the piece of jewellery for will significantly influence the premium you pay. You should therefore make sure that your valuation closely resembles the cost of replacing the piece in the current marketplace in the event of loss.
What should I expect from my valuation
A valuation for insurance replacement must accurately reflect the cost of replacing the piece of jewellery in the current market with a piece as close to the original as possible.
It is important to be wary of 'sale' pricing (Was $5,000 now only $2,000). If you pay $2,000 for a piece of jewellery, it is likely that the current market price is closer to $2,000 than the $5,000 advertised. If your valuation states $5,000, you will be paying a premium based on that value when, in fact, the piece can be replaced for closer to $2,000, and insured at a much lower cost.
The valuation value should also be determined using a standardized, objective process. Because the purpose of the appraisal is for replacement of the piece in the case of loss, there is little scope for subjectivity on determining the current retail market value.
Your valuation should accurately describe the piece of jewellery. It should contain all the information important in determining what you should receive in place of the piece in case of a loss. A photograph of the piece would also be very useful.
Finally, it is important to ensure that you review your valuation regularly to ensure that it reflects the current retail market value and your insurance premium reflects the same.
The nominal cost of keeping your valuation current is far less than the potential cost of over insuring your jewellery or being under insured.
Why should I get a DCLA Jewellery valuation?
Objectivity and Accuracy
The DCLA valuation process is entirely objective. The value of the piece is based on the specific details of the materials used in making the piece, current market resource prices (price of diamonds, gold, other precious metals and stones) and comprehensive, statistical market data. This ensures an accurate retail replacement value in the current market. The appraisal value is also regularly reviewed to determine if it has changed significantly since the original appraisal. You will be notified of any changes that may affect your insurance premiums.
A DCLA valuation will also have printed on it a photograph of the piece (subject to retailers providing the photograph) which will help in insuring correct insurance replacement in the event of a loss.
Independence
DCLA is completely independent from the retail jewellery stores and valuers. We receive a small fee from the retailers for the production of each valuation. That fee is in no way related to the value determined by our valuation system.
Convenience and security
Your valuation is stored in our secure database. The database has multilevel security and redundancy to protect the information. This means that your information is safe, secure and private. It also means that it is available, online, to you at any time. You never need to take your piece into a jewellery store again to have it revalued. This can all me done quickly and easily online.
If, for example, your valuation certificate is lost together with your jewellery in a house fire, DCLA can quickly and easily provide you with a copy for your insurance claim.
As an added bonus, each DCLA valuation is available with two copies, one for you and one for your insurance company if required. This saves you the effort involved in getting a certified copy of the original valuation for your insurance application.
This is another assurance linking your diamond to the report or the Diamond or Jewellery Valuation, identifying your diamond to the Valuation or Diamond Grading Report  in case of recovery.