DCLA Consumer Guarantee Policy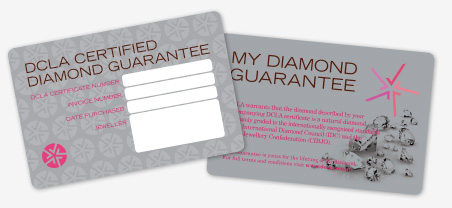 The mission of the DCLA is to increase consumer confidence in the purchasing of diamonds. A vital component for this confidence is accuracy and transparency in diamond grading. The DCLA grades to the internationally accepted standards set by the International Diamond Council (IDC) and the World Jewellery Confederation (CIBJO). The laboratory employs advanced equipment, accurate reference materials and grading rules and procedures set out by those bodies.
Incorrectly graded diamonds, synthetic and treated diamonds all represent threats to consumer confidence. These threats are eliminated with accurate laboratory grading.
Conflict diamonds, although small in number, represents a significant threat to consumer confidence and the appeal and status of diamonds as the symbol of love. The industry, together with governments and NGO's, developed the Kimberley Process and put in place a System of Warranties. DCLA subscribes to this System of Warranties.
---
DCLA Guarantee & Dispute Procedure
Should believe your DCLA certified diamond is not as stated on the corresponding certificate, you may re-submit your diamond to DCLA. The diamond must be loose, and be accompanied by a copy of the retail sales receipt and the original certificate. If after verification that the diamond matches the certificate, the DCLA determines that the grading is incorrect, DCLA will arrange the replacement of your diamond as per the quality stated on your original certificate.*
---
How will DCLA replace a diamond?
DCLA will arrange the replacement of the diamond through the original jeweller. DCLA will assume the financial responsibility of this replacement. The diamond will be replaced in a reasonable time period subject to availability of the specific quality of diamond. The diamond will be replaced to the satisfaction of the consumer.
---
Why is a replacement better than a Money Back Guarantee?
Anyone can offer a money back guarantee as there is no cost in merely giving the consumer their own money back. This allows discounters to overstate quality, entice you to purchase at what seems a fantastic discount with no consequences. A replacement guarantee means that if the diamond's quality was overstated, replacing it with the correct quality would result in a cost to the seller and a potential financial benefit to the consumer. The accuracy and consistency of grading allows DCLA to be the first diamond grading laboratory to offer a full replacement guarantee with confidence.
---
*Conditions Of The Guarantee:
The guarantee does not cover damage or loss.
The guarantee is rendered void if the diamond has been damaged, repolished, treated or altered in any way subsequent to certification by the DCLA.
This guarantee is not transferable
The consumer must have all relevant purchase documentation including the original sales receipt and the original DCLA certificate.
The guarantee warrants that grades are in accordance with the IDC standards at the time of grading.