Diamond Report or Certificate Copy
DCLA provides a Diamond Grading Certificate or Diamond Grading Report reprint service, should you lose or damage your original certificate. Please call or email us with the DCLA Diamond Certificate number, diamond shape, and carat weight.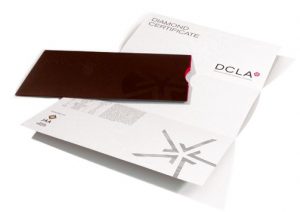 The Diamond Grading Report or Certificate will be prepared for pickup at the DCLA Laboratory, or at your request it may be posted in the mail. The diamond report will come with the current date, the rest of the information will be as per the original document.