Diamond Certification
The DCLA Diamond Grading Report is a comprehensive, providing all the information necessary to make an educated diamond purchase.
The DCLA Diamond Grading Report guarantees the authenticity of diamonds, and rules out the possibility of a diamond being synthetic or an imitation.
The Diamond Grading Report also contains a complete description of the diamond including: a unique ID number, carat weight, colour grade, clarity grade, shape, measurements, proportions, proportion grade, transparency grade, polish grade, symmetry grade, fluorescence, hue and other remarks or characteristics which determine the quality of the diamond.
The individual parameters listed above allow for accurate identification of the diamond, while the overall grade for a set of parameters provides easy understanding of a diamond's quality.
All of these diamond quality characteristics determine the value of a diamond, and are discussed in detail under The 5 C'S of diamond grading.
The DCLA Diamond Grading Report is the most important document your diamond will ever be linked to. The Diamond Grading Report does not date or expire, and provides a steady foundation for calculating the replacement value of your diamond.
To prevent counterfeiting the Diamond Grading Report has various security features including holograms, a UV activated text seal covering the information field, special UV activated paper, and an embossed foiled crest.
DCLA also provides an Online Diamond Grading Report Check, which is your way to verify the authenticity of information for your diamond, should it be required for an insurance appraisal, or to replace a lost or damaged Diamond Grading Report.
---
Rough or Uncut Diamonds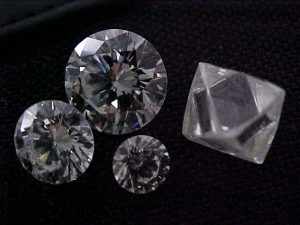 DCLA offers the only qualified service for rough diamonds direct from our South African DCW. Our diamond expertise in the DCW (Diamond Cutting Works) is third generation.
We are experts in the field of :
Marking for cleaving, laser or conventional sawing.
Our services included :
Rough diamond pricing on individual single large crystals or parcels of small rough or run of mine.
Classification of rough parcels of diamonds for colour and clarity.
Expected weight recovery of rough diamonds, for rounds or fancy shapes.
Pricing of industrial, near gem and gem quality diamonds.
Sorting of near gem rough, and their market price.
Production services :
Calculation of the retention on all shapes including octahedrons and misshapen crystals, with a predicted accurate expected weight.
Opening windows on rough diamonds, for marking and internal assessment of depth and sizes of inclusions.
Cutting and Polishing rounds and fancy shapes.
Fancy colours :
Identifying natural origin, colour banding, zoning within rough diamond crystals of fancy colours.
Proportion and expected angles for light reflection and colour intensifying the natural colour in the crystal.