Kim Kardashian has splurged on a new accessory diamonds for her teeth.
The reality star debuted her 'new grillz' on Friday posing a picture to her Instagram page.
The image showed a close up of her blindingly white teeth, with the lower teeth all completely covered in tiny diamonds, and her upper teeth baring a tiny cross.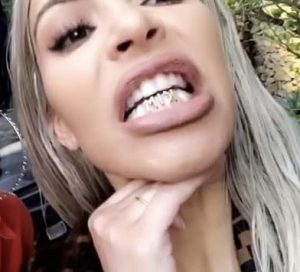 The grill looks to be one Kim collected in November, when she posted a photo after getting her mouth molded for the custom design by jewelry designer Dolly Cohen.
Kim's husband Kanye West is rarely seen without a fancy grill, and the mother of three has added a few of her own to her jewelry collection.
Back in August she unveiled a Kim grill, which spelled out her name on her lower teeth in diamonds.
Source: dailymail