Graff will present a selection of flawless polished stones from the 1,109-carat Lesedi La Rona at its new Hong Kong boutique.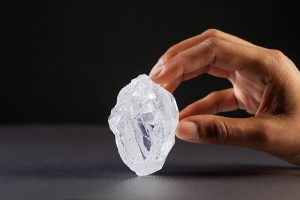 Graff purchased the D-color diamond — the second-largest rough in history — from Lucara Diamond Corp. for $53 million in September 2017. The luxury jeweler has since cut about 30 polished diamonds from the original stone, and will display them in Asia for the first time, it said last week.
Graff recently opened its new flagship store in the St. George's Building on Chater Road, close to the luxury jeweler's previous location. The 2,800-square-foot boutique, which Graff created together with luxury architect Peter Marino, will also have a dedicated watch area, bridal-hall houses featuring wedding jewelry, and three VIP rooms containing high jewelry.
The luxuriously designed space will include a private event hall for special celebrations and memorable moments, Graff added.
Image: The new Graff boutique, Hong Kong. (Graff Diamonds)