Luxury jeweler, Graff, has unveiled its latest, and perhaps its greatest, big diamond creation, the "Graff Lesedi La Rona," a 302.37-carat D-color, high-clarity stone that is being lauded as the world's largest square emerald cut diamond. The London-based company also says it is the "largest highest clarity, highest color diamond ever graded by the Gemological Institute of America (GIA)."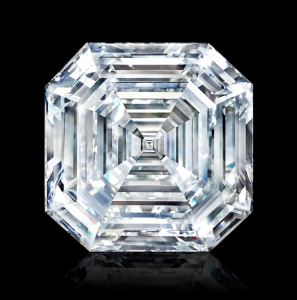 Laurence Graff, the prestigious diamond dealer and founder of the eponymous international luxury jewelry brand known for its gem-centric high jewels, who has cut and polished the majority of the 20 largest diamonds discovered this century seemed humbled by his latest creation.
"My love affair with diamonds is life-long and crafting the Graff Lesedi La Rona has been an honor. This diamond, our diamond, is beyond words," he said. "All our expertise, skill and accomplishment went into crafting this incredible diamond masterpiece, which is extraordinary in every way. The Graff Lesedi La Rona is an exceptional diamond with an exceptional cut and exceptional proportions, earning its place in history as the largest and finest of its kind in the world."
The gem's D color grade (meaning colorless) is the highest end of the GIA color scale. It is rare for any diamond to achieve this, much less one of more than 300 carats. While Graff noted its high clarity, meaning that the diamond has few or no inclusions or blemishes, it did not reveal the GIA clarity grade.
It is the principal diamond cut and polished from the 1,109-carat Lesedi La Rona rough, which was purchased in 2017 by Laurence Graff. In addition to the main diamond, 66 "satellite" diamonds have been polished from the rough, ranging in size from under a carat to more than 26 carats. Each diamond is inscribed with "Graff, Lesedi La Rona" and its unique GIA number, and is accompanied with a certificate of authenticity from Graff and the GIA. Graff began alerting its clients in November 2018 that they can purchase jewels with stones from the rough gem.
The 1,109-carat rough diamond, about the size of a tennis ball, has had a brief but storied existence. It was discovered by Lucara Diamond Corp., a Canadian diamond mining company, in November 2015, at its Karowe mine in Botswana. It is the largest gem-quality diamond discovered in more than 100 years and the second-largest in history. Its size is exceeded only by the legendary 3,016.75-carat Cullinan Diamond, mined in South Africa in 1905, which produced nine major diamonds that are part of the British Crown Jewels.
"There is a huge amount of good fortune involved in unearthing a rough diamond of this extraordinary beauty and importance," Laurence Graff said. "We had an immense duty to cut the very, very best diamond imaginable from this rough."
The gem was given the name, Lesedi La Rona, which means "our light" in Botswana's Tswana language.
Lucara Diamond Corp. originally tried to sell the Lesedi La Rona in a standalone public auction at Sotheby's London on June, 2016. It was an unusual way to sell a rough diamond. Normally, rough diamonds are sold privately to diamond dealers who then cut and polished it into a finished gem. It created controversy among these dealers. One of those who criticized the sale was Laurence Graff. It had an estimate of more than $70 million. However, it failed to meet its reserve price as bidding stalled at $61 million.
The Graff gemologists and master polishers spent 18 months analyzing, cutting and polishing the stone in order to reveal the 302.37-carat Graff Lesedi La Rona Donald Woodrow
In September 2017, Graff Diamonds announced that it had purchased the diamond for $53 million in a handshake deal between Graff and William Lamb, former president and CEO of Lucara. Once purchased, the diamond was moved to South Africa where Graff's cutting and polishing processes are carried out.
Laurence Graff said he was confident the Lesedi La Rona would result in "sensational polished gems." In May 2016, he purchased a 373-carat rough diamond that was believed to have come from the same rough stone. His experience with this gem gave him enough confidence to think he could predict what the Lesedi La Rona might produce.
Even with this experience the Lesedi La Rona presented a unique challenge for Graff's gemologists. They had never analyzed a stone this large. In fact it was so large that it couldn't be viewed with existing equipment. A scanner had to be custom built specifically for the Lesedi La Rona with new imaging software capable of probing its immense interior.
With the new equipment, the gemologists were able to explore deep within the diamond and map out the maze of imperfections. They used this information to plot which cuts would yield the largest and highest clarity diamonds possible.
At first, the technical analysis of the Lesedi La Rona concluded that a 300-carat diamond wasn't possible. However, Laurence Graff said he was convinced that this exceptionally rare weight could be achieved and challenged his staff to accomplish this.
After months of analysis, the plan for cutting and polishing the diamond was so precise there was no room for error. It took hundreds of hours just to polish the table facet, the largest facet at the top of the diamond.
By the time the final finessing of the diamond's facets had taken place, more than 18 months had elapsed.
"Cutting a diamond of this size is an art form, the ultimate art of sculpture," Laurence Graff said. "It is the riskiest form of art because you can never add and you can never cover up a mistake, you can only take away. You have to be careful and you have to be perfect."
The GIA identified the Lesedi La Rona rough as part of an elite group of "super deep" diamonds formed three times deeper than most other diamonds. Rare emissaries of geological information, Graff donated fragments of the Lesedi La Rona to the Smithsonian Institute to help advance diamond research.
Source: forbes.com