In 2014, Massimo Balestra received a call from an employee at his bank, offering a risk-free investment "as secure as a wall safe." The resident of a small northern Italian town ended up spending 6,945 euros ($7,876) on a diamond that he says he hasn't seen since.
Balestra is one of almost 100,000 Italians who bought so called "investment diamonds" at the urging of their banks in a widespread arrangement that's now the target of a criminal investigation by the country's financial police, according to people with knowledge of the matter. Investigators allege that Italy's biggest banks hooked up their clients with diamond brokers who sold them stones for as much as double their market price.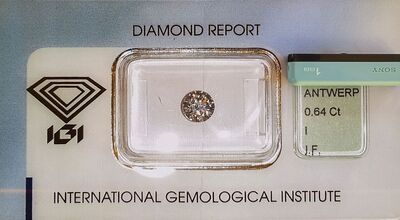 Police on Tuesday confiscated more than 740 million euros from UniCredit SpA, Intesa Sanpaolo SpA, Banco BPM SpA and one of its units, Banca Monte dei Paschi di Siena SpA as well as two diamond brokerages in connection with the case, according to a court document seen by Bloomberg.
Representatives for UniCredit, Intesa, and Monte Paschi declined to comment. Banco BPM SpA said in a statement that the company and current and former executives including General Manager Maurizio Faroni are targets of the probe and that authorities had seized 84.6 million euros in the investigation. The bank said it is cooperating with the investigation.
A lawyer for Intermarket Diamond Business SpA, or IDB, the brokerage selling diamonds through UniCredit and Banco BPM, declined to comment. Lawyers for Diamond Private Investment SpA, or DPI, the reference broker for Intesa and Monte Paschi, didn't respond to emails and calls seeking comment.
Ugly Spotlight
The probe reopens an embarrassing chapter for the banks as they confront challenges including unloading soured loans, boosting profitability and convincing clients to invest their savings when the euro zone's third-largest economy is sputtering. Four of the five banks targeted in the investigation were hit by fines imposed by the country's antitrust authority two years ago over the diamond sales.
Among the scheme's victims is Italy's most popular rock star, Vasco Rossi, who bought about 2.5 million euros of diamonds from 2009 to 2011, the document showed.
'Investment Diamonds'
Italian banks went into the business of investment diamonds en masse after 2010 as they sought to boost profitability amid the country's worst recession since World War II. Customers committed their savings, enticed by bank promotions and employees who reassured them the investment carried no risk and would provide attractive returns.
Banks acted as intermediaries, putting diamond brokers in touch with their clients and earning fees on the sales. The contracts were often signed in the lenders' branches, giving clients the impression that the banks were counterparties to the deals.
Prosecutors will allege that the diamonds were sold at prices far above their assessed value and that the banks didn't meet their legal obligations of informing investors of the risks, the document showed. To deceive potential buyers, the brokers took out ads in the business pages of Italian newspapers that displayed their inflated prices in a format that made it appear that they were market quotes.
Criminal Charges
About 70 people, including several top managers of the lenders, face possible charges of fraud and so called self-laundering. The banks and brokerages themselves are also suspects because companies in Italy can be held responsible if they are shown to have failed to prevent, or didn't try to deter, a crime by their top executives.
Balestra, who's bank is among those charged in the case, said he was told to expect an annual yield of 3 percent to 4 percent on a diamond that would be held in the broker's vault. He said he inquired about the investment six months ago and was told by a bank employee that the diamond broker was close to failure after negative publicity about its activities in the Italian media but his investment wasn't at risk because the diamond business was doing well in the rest of Europe.
A few months later, he was surprised to receive a letter saying that the broker, Intermarket Diamond Business, which is named in the criminal case, had collapsed and he had the right to seek custody of the diamond. "After five years, not only did I not receive any return, but I also haven't been able to get my diamond back. I only have a photo of my diamond with a certificate from the International Gemological Institute."
Milan-based Banco BPM said that it has made "adequate provisioning in 2018 to reimburse clients and cover risks and charges related to the probe."
Perks, Gifts
Employees of UniCredit and Banco BPM allegedly received at least 99,000 euros of gifts from IDB, including antiquities, smartphones, trips to spa hotels and diamond rings, according to the document.
Regulators first started investigating the sale of diamonds through bank branches in 2016. The next year, the country's antitrust authority imposed total fines of 15 million euros on Intesa, UniCredit, Monte Paschi and BPM as well as brokers Intermarket Diamond Business and Diamond Private Investment for defrauding savers by selling diamonds to them at vastly inflated prices without informing them of the risks.
While the antitrust authority was completing its investigation, Milan prosecutors opened a separate probe on the matter, digging into the practices of diamond sales between 2012 and 2016. That culminated in the asset seizures last week.
While the fines and the seizures are manageable for the lenders, the risks to their reputations may be higher. Balestra said he's pessimistic about getting back his investment. "I don't trust anyone at the banks anymore. In the future, I'm going to put my savings under the mattress."
Source: bloomberg.com