Do you know the Martian Pink from the Perfect Pink, the Sweet Josephine or the Pink Promise? Christie's jewellery specialist Marie-Cécile Cisamolo tells the stories of these and other fabulous pink diamonds that have bedazzled our salerooms
Prices for top-quality, large pink diamonds have increased exponentially in recent years, driven by collector demand and increasingly limited supply. Pink diamonds gain their highly desirable colour as a result of a rare, naturally occurring slippage of the crystal lattice in the stone while it is forming deep within the Earth's crust. Here we take a look back at some of the biggest and the best stones and pink diamond rings sold at Christie's in recent times.
1
Sold for $10,709,443 in 2015

Set on a lady's ring with a unique oval-shaped, gold-mounted diamond surround, this pink stone was the star lot of Christie's Magnificent Jewels  sale in May 2015 in Geneva.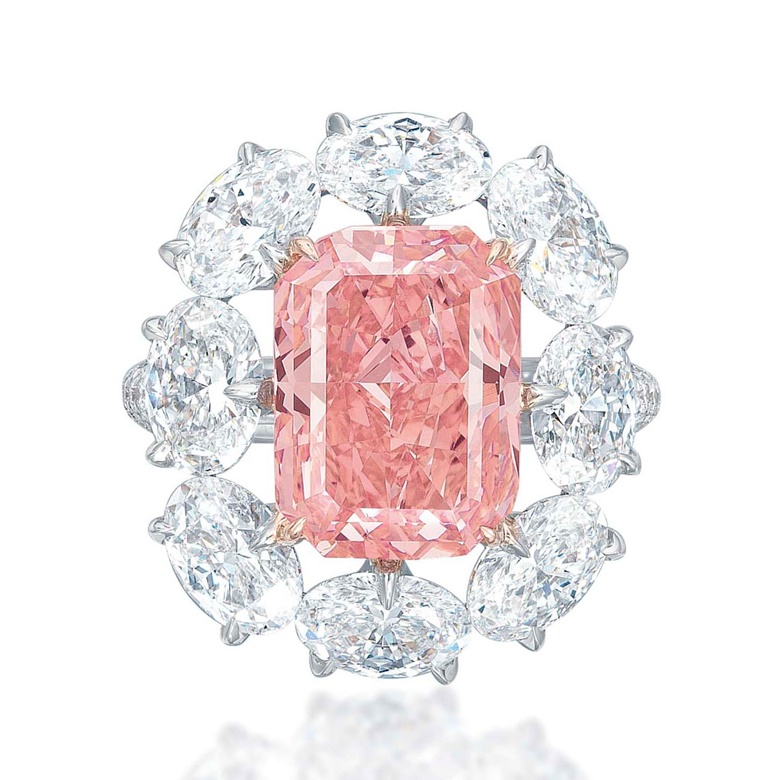 Because fewer than 10 per cent of pink diamonds weigh more than 0.2 carats, this example, at 5.18 carats, sold for almost a million dollars more than its low estimate.
2
Sold for $10,776,660 in 2009
Flanked on either side by shield-shaped diamonds, this pink stone is set on a platinum and 18k rose gold ring designed by the British jeweller Graff. When it went under the hammer in Hong Kong, 'The Vivid Pink' sold for more than double its low estimate and achieved the highest price ever paid per carat for a pink diamond at the time ($ 2,155,332). The record remained unbeaten until the sale of 'The Pink Promise' by Christie's in 2017.
This example is certified 'IIA' by the Gemological Institute of America — meaning it has a particularly rare, almost homogenous colour.
3
Sold for $14,461,250 in 2017
This square-shaped diamond, which is a particularly light shade of pink, was given by Cardinal Mazarin to Louis XIV in 1661. It then spent 225 years as part of the French crown jewels, passing through the hands of four kings, four queens, two emperors and two empresses, before its 1887 sale when the royal treasury was dispersed and its whereabouts became unknown.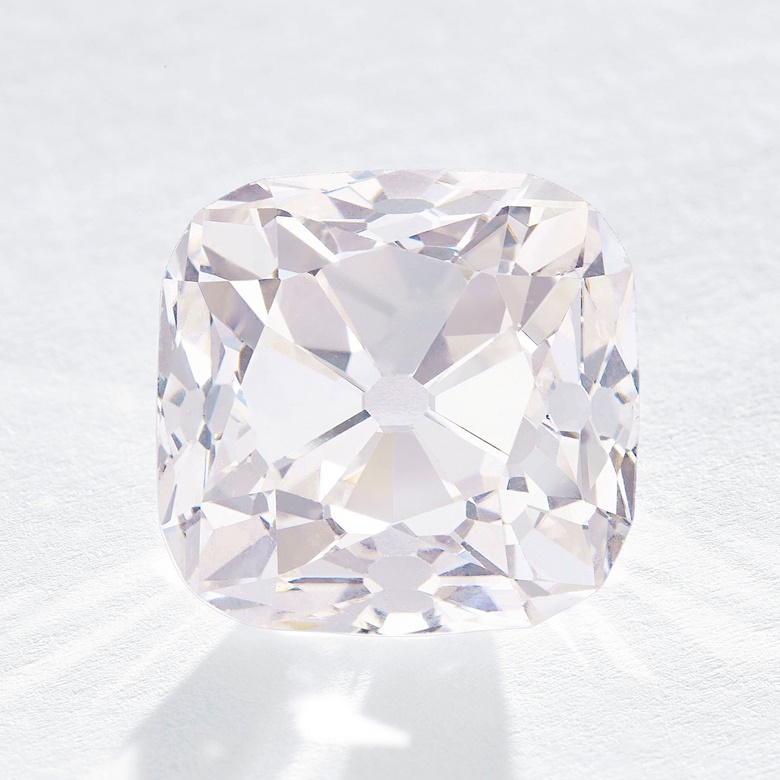 In 2017, while on a site visit to a client's house, 'Le Grand Mazarin' was revealed from inside an old parcel paper to Christie's jewellery specialist Jean-Marc Lunel. 'Holding such an important piece of French royal history in my hands was unbelievable,' he would later recall of the historic diamond's rediscovery.
4
Sold for $15,762,500 in 2012
Stored in a bank vault since the 1940s, this unique purplish-pink diamond is set in a Belle Epoque ring made by Dreicer & Co. and formerly belonged to the reclusive American mining and railroad heiress, Huguette M. Clark. When it sold for almost double its upper estimate in 2012, it became the most expensive pink diamond ever seen at auction in the United States.
The ring was the top lot of a collection of 17 of Clark's jewels that were auctioned by Christie's, which also sold her collection of paintings by artists including Monet, Renoir and Whistler, two years later.
5
Sold for $17,395,728 in 2012
Mounted on an 18k gold ring by the famous New York jeweller Harry 'King of Diamonds' Winston, this ring was nicknamed 'The Martian Pink' by his son Ronald, who was inspired by the 1976 launch of a US satellite to photograph the 'red planet' Mars, and the stone's similar strong pink colour.
The Martian was certified as having virtually no nitrogen in its crystalline structure and unlike most pink diamonds, which exhibit tones of purple, orange or grey, it shows absolutely no trace of any secondary colour. As a result, it sold for more than double its low estimate when it went under the gavel in Hong Kong in 2012.
6
Sold for $18,174,632 in 2016
Only a few mines in the world produce pink diamonds, and of those diamonds that are cut and polished only one in roughly 10 million will possess a colour pure enough to be graded 'Fancy Vivid'.
This large example, which is mounted between tapered baguette-cut diamond shoulders on a platinum ring, was certified Fancy Vivid in June 2016 by the Gemological Institute of America, helping it push past its top auction estimate and achieve more than $18 million when it sold in Geneva in the same year.
7
Sold for $23,165,968 in 2010
At the time of this stone's sale in 2010, it was one of only 18 pink diamonds weighing more than 10 carats to have ever appeared at auction. And of those 18, none apart from this diamond had ever been graded Fancy Intense Pink at the time of its sale, which placed it in a league of its own.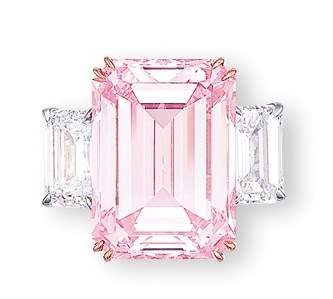 Flanked on either side by two clear diamonds mounted in 18k rose gold and white gold, the pink diamond sold for almost 30 per cent more than its upper estimate when it appeared in the Hong Kong saleroom, demonstrating a strong demand for coloured diamonds in Asia.
8
Sold for $28,523,925 in 2015
Mounted in a diamond twin-surround and with a diamond-set hoop, this ring set a new world-record price for any pink diamond when it sold at Christie's in Geneva in 2015. Owned by an American family for 15 years prior to the sale, the stone was, at the time, the largest cushion-shaped pink diamond classified as Fancy Vivid Pink to ever come to auction.
After the sale the diamond, which sold for around $5.5 million more than its lower estimate, was named 'The Sweet Josephine' by the winning bidder in honour of his seven-year-old daughter.
9
Sold for $32,480,500 in 2017
This pink stone, with its circular-cut diamond surround featuring more pink diamonds and a platinum ring, set a new price-per-carat world record for any pink diamond when it sold in 2017 — a whopping $2,175,519.
The diamond's initial grading was Fancy Intense before the jeweller, Stephen Silver, cut it down from 16.21 to 14.93 carats in 2013, shaving off areas of inclusions after years of detailed planning. The resulting stone was upgraded to the much rarer Fancy Vivid category, the highest possible colour mark for pink diamonds.
10
Sold for $39,323,750 in 2013
The Princie pink diamond was discovered about 300 years ago in India, and was initially owned by the Nizams of Hyderabad. It was first auctioned in 1960, where it was purchased for £46,000 by Van Cleef & Arpels. The diamond was promptly named 'Princie', and the house threw a christening party for the stone in its Paris showroom.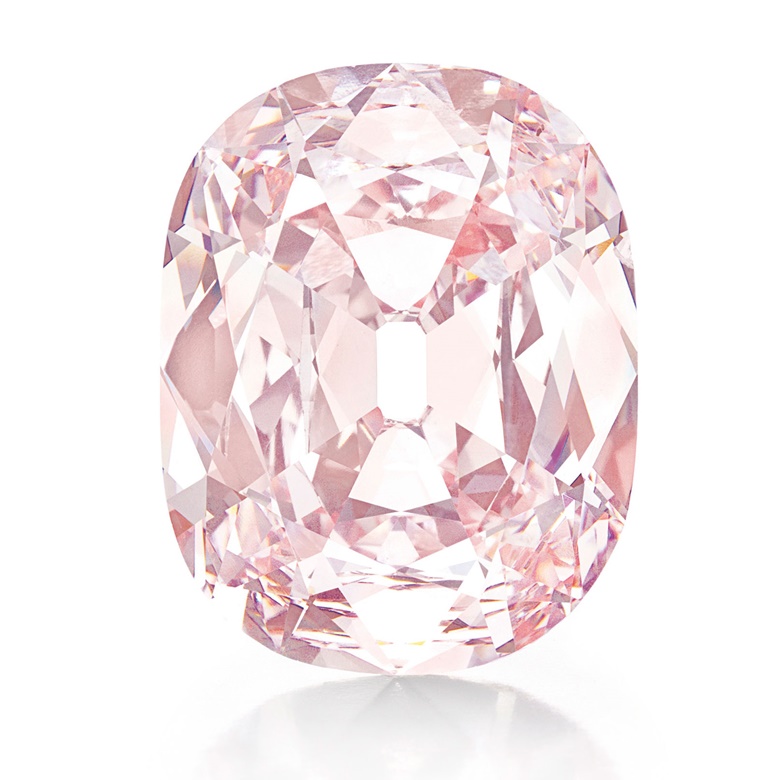 Of the seven million diamonds that have passed through the Gemological Institute of America, no more than 40 have exhibited a rare orange glow when examined under ultraviolet light, and the Princie is the largest of all of them. This fluorescent quality pinpoints the stone's origin to the Golconda mines of India.
As it is the largest Golconda-type Fancy Intense pink diamond to ever be graded by the GIA, it's little wonder that it sold for almost $40 million when it appeared in the sale room in New York in 2013, making it the most expensive pink diamond ever sold at Christie's — a record it still holds.
Source: christies.com