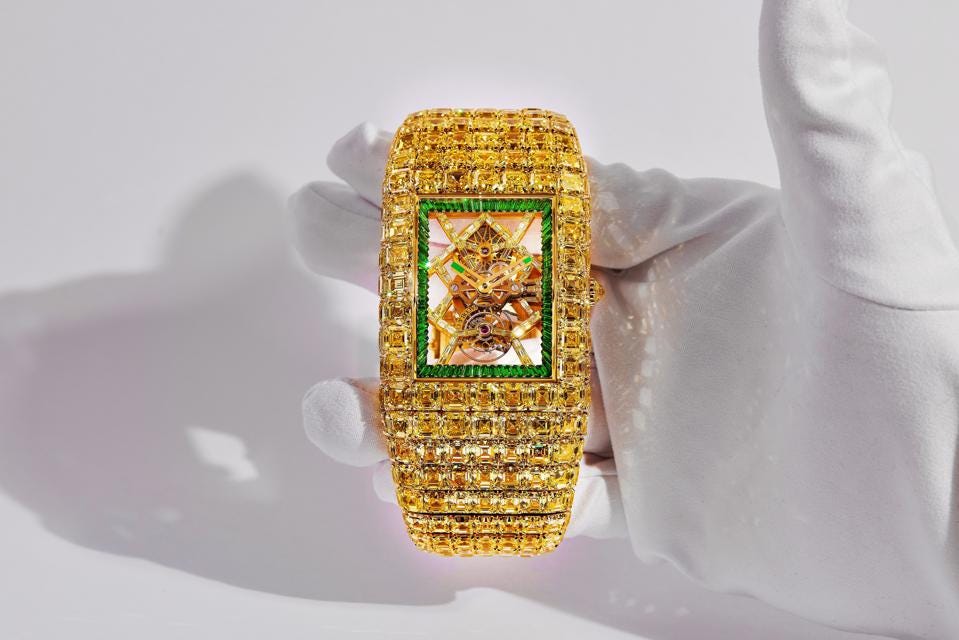 Jacob & Co. unveiled its $20 million Billionaire Timeless Treasure Yellow Diamond watch on Monday in Geneva, concurrent with the Watches & Wonders Geneva 2023 exhibition. The complex tourbillon timepiece is totally ensconced in 425 Asscher-Cut Fancy Yellow and Intense Yellow diamonds. The feat of simply collecting and cutting all of the highest color and quality of matching diamonds alone took three and a half years.
This is not the first Billionaire watch the brand has built. In fact, in 2015 it released its first Billionaire watch bedecked with 260 carats of white diamonds. Three years later, in 2018, Floyd Mayweather bought a Billionaire watch (only 21 have been made since 2015, with all of them selling except for one) for $18 million. The brand then unveiled, also in 2018, its $6 million yellow diamond Millionaire watch with 127 carats of intense yellow diamonds. But that wasn't enough for this independently owned and operated jewelry and watch brand. Thee needed to take each of those renditions to new heights.
When it was determined that the brand would move forward with this timepiece, ten top-notch gemologists scoured the Earth for enough perfectly matched rare diamonds. In the end, the brand purchased 880 carats of rough yellow diamonds and had them cut over the course of several years into what would end up being individual Asscher-cut stones weighing 216.89 carats total. Just the studying of the rough diamonds and the cutting and polishing took thousands of hours.
The Asscher Cut, invented during the Art Deco era, is a square diamond with clipped or angled corners that offers a nice open view into the stone. The Asscher Cut diamonds on this watch boast 57 facets on the edges and the crown sits higher, so more rough stone is needed than for, say, a brilliant-cut stone. As such, there was more diamond-waste to creating the Asscher Cuts, according to the brand.
Read more: forbes